Mirabai Chanu came to China hoping to win the only medal missing from her cabinet. She returns to India in 'deep pain', another injury and more questions than answers over her Paris Olympics prospects.
With only two successful lifts in her six attempts, the Tokyo Olympics silver medallist finished fourth with a total of 191 kg (83 kg in snatch, 108 kg in clean and jerk). Chanu can take heart from the fact that she went for a medal despite an injury.
But that's the only takeaway.
The Asian Games weightlifting competition offered a new hierarchy in the 49 kg weight class, one in which the Chinese aren't at the top and where Chanu isn't in the top three.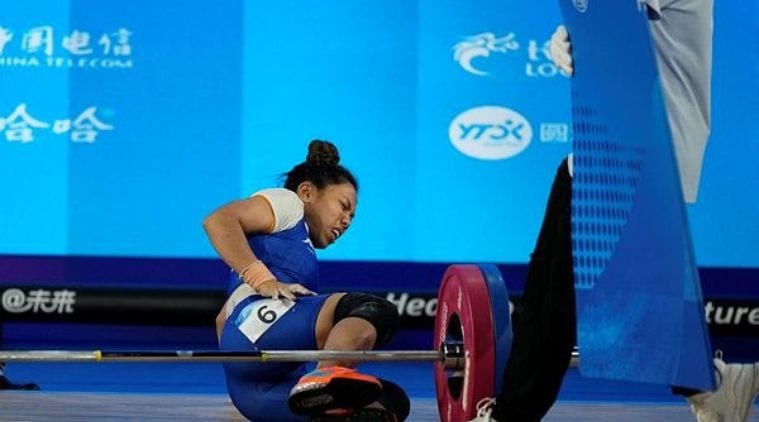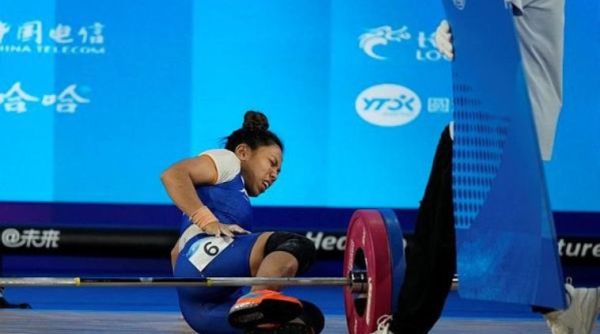 India's Mirabai Chanu Saikhom reacts in pain after she got injured while competing in the women's 49kg Group A weightlifting final at 19th Asian Games in Hangzhou, China, Saturday, Sept. 30, 2023. AP/PTI
It's an unusual situation for the Indian who has been second or third best in her category for the last couple of years. But the return of the North Korean and Thai lifters after years in exile has changed the landscape.
On Saturday, North Korea's Ri Songgum set a world record in her first major competition in three years, with a combined lift of 216 kg (92 kg in snatch, 124 kg in clean and jerk). She finished ahead of the home favourite Jiang Huihua, who lifted a total of 213 kg, and Thailand's Thanyathon Sukcharoen, who was third with 199 kg.

When Chanu won the Tokyo silver, neither the North Korean nor Thai players were in the mix. While Thailand's lifters were axed from international competition due to doping offences, North Korea's strict Covid-19 policies meant all their athletes were in self-imposed exile.
Lack of dope tests during their time away from sport means that Songgum and other lifters from North Korea will not be eligible for the Paris Olympics. But that won't make Chanu's task easier since there are lifters from outside Asia who are closing in on the 200-kg mark, considered to be a sure-shot total for a podium finish.
Chanu's concerns, however, won't be her competitors as much as her body itself. On Saturday, as she went all out for a medal, she hurt her hip, with the extent of the injury still not known.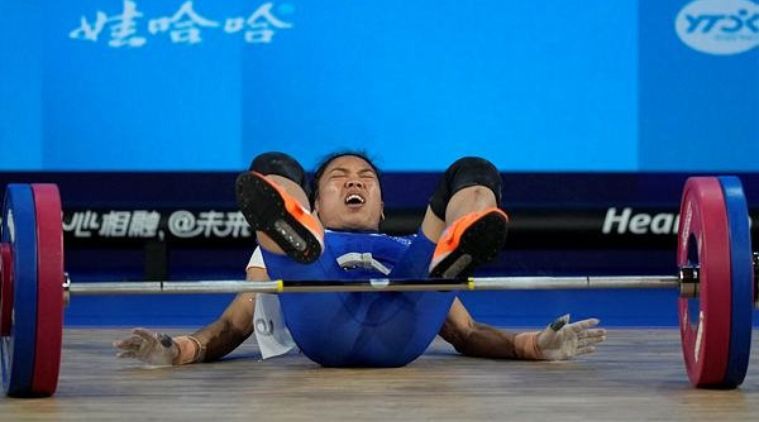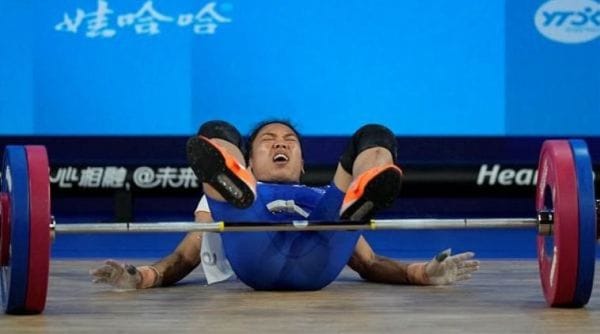 India's Mirabai Chanu Saikhom reacts after an unsuccessful lift in the women's 49kg Group A weightlifting final at 19th Asian Games in Hangzhou, China, Saturday, Sept. 30, 2023. AP/PTI
"When I was warming up in deep sitting for the snatch, I felt some pain in the hip," Chanu said. "I had focussed that I had worked hard and did all the training, so I wanted to complete it by competing here. But I couldn't do it because of the pain. I tried to give my everything to get a medal for India."
The frequent injuries have dented Chanu's hopes of breaching the 90 kg mark in the snatch category, which she has been eyeing to increase her total score. But Saturday added to her frustrations as she could manage just one legal lift of just 83kg, way below her personal best mark.
Chanu, who wasn't in medal contention after the first round, went for the broke in the clean and jerk, the section where she is among the strongest in the world. Despite the pain, she heavily taped herself and came out for clean and jerk but failed while attempting to lift 117 kg.
"I tried for the bronze medal. If I cleared 117kg, I would have gotten bronze. In the snatch, I could clear only 1 lift. If I had gotten 86 kg in snatch, then I would have gone easier in clean and jerk," she said.
Chanu said her coach Vijay Sharma advised against lifting heavier weights but claimed she 'wanted the medal badly and did everything possible'. "Sir told me to let it go otherwise I will risk injuring myself. But I had it inside me saying, 'I will do it. I have to get the medal'. But because of the pain, I couldn't get it done."
Chanu said she will study the extent of the injury after returning to India. "I will see what I can do after getting to India," she said. "I don't know the extent of the injury but I am in deep pain. I missed the Asian Games 2018 due to my back injury and now this. But it's okay, I will try next year in the Olympics."


Source link

————————————
For More Updates & Stories Please Subscribe to Our Website by Pressing Bell Button on the left side of the page.